Go therefore and make disciples of all nations
The missions of Olive Crest UMC are the heart of our church.
Simon Says:
"Live A Better Life"
Mission
Simon Says: "Live a Better Life" Mission along with Olive Crest UMC, provides Birthday Celebrations and High School Scholarships for children experiencing hardships and provides meaningful volunteer opportunities to individuals who wish to help the less fortunate.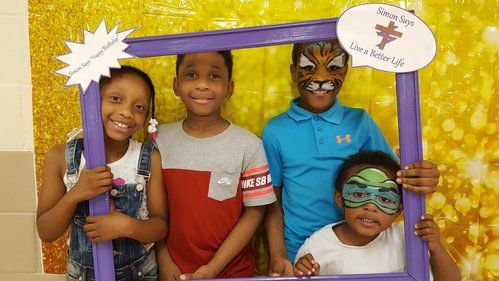 The inspiration for the mission was Simon Jones. He lived a courageous and generous lifetime in 18 short years. The last 5 years he did so battling a rare, aggressive cancer. In the last year of his amazing life he began writing an inspirational Facebook blog entitled
Simon Says: "Live A Better Life".
Through this blog he encouraged thousands with a simple message;

"Find the blessing in what you think is a struggle
and use it to make the world a better place.
We get to choose how we put it back out into the world".

You can choose to be the light and hope for someone else by being the kingdom of God right here on Earth. Simon lived that life lesson to the fullest and by doing
so has shown us all how to 'Live a Better Life'.

One of Simon's passions was the Simon Says' "Happy Birthday" Toy Drive that he created for the Living Hope Food Pantry. In a few short months his efforts collected over 300 toys.
After he passed away his family along with Olive Crest UMC,
decided to continue his message by creating the Simon Says: "Live a Better Life" Mission.


Currently we offer three types of Birthday Celebrations for children facing hardships. These programs are offered to any local outreach organization that benefits children ages 1-18 facing financial, emotional or health related issues.
The Birthday Party Program provides a once a month party at local outreach organizations. Children ages 1-18 with birthdays in that month will be invited to celebrate. The mission will provide all the party supplies, entertainment, and presents for each birthday child. Currently we offer parties at the Open Door Mission, Ronald McDonald House and through the Completely KIDS Shelter program.
The Birthday Kit Program provides a themed party kit filled with presents and supplies for children to celebrate their birthday at their own convenience. The mission will make the kits available to the child by recommendations from outreach organizations based on family circumstances, health issues and
financial hardships.
The Birthday Wish program provides individual children with a Birthday Party at a local "Birthday Party Venue" where they can invite their family and friends, Recommendations from outreach organizations based on family circumstances, health issues and financial hardships will be considered for this program.
The Birthday Blessing Program distributes
new books and room decorations to children who are inpatient at Children's Hospital on or near their Birthday. Simon Says provides the books and supplies and the Child Life Department decorates the child's room.
Annual TOY DRIVE Happening NOW!!
Donate your Birthday or an "In Memory" Birthday to fund a Birthday Kit or Birthday Wish for a child.
Support Simon Says: "Live a Better Life" with monetary donations. As a mission of the Olive Crest United Methodist Church we will use all donations to provide Joy to children experiencing hardships through our programs. Checks can be made payable to Olive Crest UMC (memo: Simon Says Mission) and be mail to: Olive Crest UMC 7180 North 60th St. Omaha NE. 68152 or online through our GIVE link.
Host a Toy Drive, Book Drive, Teen Gift Card Drive or Party Supply Drive at your place of work, worship or neighborhood. Donations from the drives will provide Joy to children we support through our programs.
Contribute to the Simon Says: "Live a Better Life" Scholarship through the Omaha Public Schools Foundation. When you donate to the OPSF please select the Contribute/Donation Online/Scholarships link at the top of the page. On the next page you will be able to choose a Scholarship Designation, look for Simon Says Live a Better Life Scholarship in the drop-down menu, then follow the prompts.
Provide New/Unwrapped toys or books for children ages 1-12 and gift cards for the teens. Call Brenda Jones @ 402-571-7468 to arrange a pick-up or look for our Simon Says Wish Lists on Learning Express or Amazon. (Send toys and books to: Simon Says Mission 11435 Sahler St. Omaha, Ne. 68164)
Became a Birthday Party Partner: Your business
or group chooses the month that they would like to support one of our Simon Says: "Happy Birthday" Parties. As a partner you provide volunteers, games and food for the party. Volunteers will set-up, interact with the children and clean-up.
MOST IMPORTANT way to help, follow us on
Facebook @ Simon Says Live a Better Life
and share with your friends and family.
Become a Simon Says Supporter
God's Closet is a mission of Olive Crest UMC. We sell great quality clothing to the community for $0.25 a piece. All funds raised go back into the community to support local Outreach Organizations. such as the Open Door Mission, YES (Youth Emergency Services), Living Hope Food Pantry, local elementary schools and the Siena Francis House.
God's Closet is open on the 2nd and 4th Saturdays of the month from 9 to 12.

We accept donations of clean, good quality clothing and home goods. Donations can be dropped off at Olive Crest on Tuesdays from 1-4 and on Thursdays from 10-4. Call Brenda @ 402-571-7468 to make arrangements.
God's Attic is full of excellent quality home goods. These items are reasonably priced are changed for the seasons. The money raised from the sell of these items helps support the Olive Crest Building Fund.
Compassion, Assistance, Restoration and Encouragement are the earmarks of what we do. If you or someone you know needs support then the CARE Team is here to help...
Prayer Request
Transportation
Meals
Essentials Pick-up
Communication Help
Call 402-571-7468 for assistance or send email to:
Lillian Jones is a Global Mission Fellow with the United Methodist General Board of Global Ministries, engaged in a two-year term of service. She was commissioned on July 28, 2019. The Global Mission Fellows program takes young adults ages 20-30 out of their home environments and places them in new contexts for mission experience and service. The program has a strong emphasis on faith and justice. Global Mission Fellows become active parts of their new local communities. They connect the church in mission across cultural and geographical boundaries. They grow in personal and social holiness and become strong young leaders working to build just communities in a peaceful world.

Lillian was born in Omaha, Nebraska and grew up in Olive Crest UMC church family. She holds a Bachelor of Arts degree in Christian Leadership and Theater, with minors in Creative Writing and Behavioral Science, from Dakota Wesleyan University in Mitchell South Dakota. She has worked as the outreach and events coordinator for Fusion UMC Church in Mitchell SD, as an Elisha intern, she worked as a team member of the Dakota Wesleyan Campus Ministry; and served as a Christian leadership intern for First United Methodist Church in Springfield, Nebraska.
She currently serves as Event Coordinator for the Surf Project in Portrush Northern Ireland as a Global Mission Fellow.

"I was fortunate to grow up in a very supportive faith community and knew I wanted to go into ministry, even as a young child," Lillian said. "My journey following God's call has not always been an easy one." Although the path has been "plagued with doubt and anxiety," Lillian said she has worked on her faith for a very long time. "God has been persistent in his love for me all this time," she added. "Even as my family suffered tragedy, God's love always surrounded us and continued to guide me closer to him. God has called me to serve and love those whom the world has forgotten. We are to live into God's kingdom here on earth."


To support Lillian with a financial gift go to:
WRITE AN ENCOURAGEMENT, QUESTION, OR PRAYER AND WE'LL CONNECT YOU to Lillian Via EMAIL.